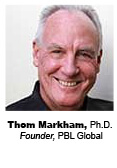 Led by Thom Markham, Founder & CEO, PBL Global, is a psychologist, educator, author, speaker, and internationally respected consultant to schools focused on project based learning, 21st century skills, innovation, and high performance cultures. He has authored two best-selling books on project based learning, the Buck Institute for Education's Handbook on Project Based Learning and the Project Based Learning Design and Coaching Guide: Expert tools for Innovation and Inquiry for K – 12 Educators, as well as Redefining Smart: Awakening Students' Power to Reimagine Their World. Thom has worked with over 300 schools and 6000 teachers worldwide to help establish transformational inquiry-based programs that integrate PBL with social emotional learning and design thinking. His intention is always to work collegially with other educators to discover, empower, improve, and succeed.
---
Articles:
---
Event
Making the Shift to a PBL Teacher: Why It's a Social Emotional Learning Journey
Joel Backon and Thom Markham discuss a key question facing many educators: How do you make the shift to becoming a PBL teacher? Thom offers an unexpected explanation; it's about you and your journey as a person, not just as an educator. He discusses five social emotional strengths that will help you take the leap into PBL: trust, openness, flexibility, curiosity, and courage.
---
Video PD Lite