News flash: Water is wet and middle school is an emotional roller coaster. Strapped into their seats, students experience the highs and lows of progressing through puberty and finding their identity as well as the twists and turns of navigating more complex social relationships. They  are often awash in unrecognizable and seemingly ungovernable emotions while they climb formidable hills, plunge into stomach-wrenching demon drops, and get tossed topsy-turvy. And  they ride without the experience or tools to know that life's strange and unexpected loops do eventually become not just manageable but even wonderful, as we learn to love the surprises unfolding around and within us.  
Does the middle school ride need to be frightening instead of exhilarating?
Marc Brackett, a professor at Yale University's Child Study Center and the founding director of the Yale Center for Emotional Intelligence, doesn't think so.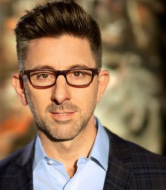 Having spent his career studying emotional intelligence, Brackett contends that children can learn the skills they need to address their feelings in healthy ways. In his recently released book "Permission to Feel," he presents a process he helped develop for young people that guides them in identifying and expressing their emotions. Inviting his readers to become emotion scientists, he suggests that the skills needed to effectively manage feelings are no different from other mental skills; we simply need to internalize them and practice them. Modeling healthy emotional regulation is especially important for parents because children learn how to process their feelings from  the adults around them. 
Before proceeding to a few key takeaways from Brackett's book, I need to address one last thing. A lot of people consider emotions to be "touchy-feely," falsely believing that feelings get in the way of rational thought. But research into the science debunks this myth. "Emotional intelligence doesn't allow feelings to get in the way—it does just the opposite," Brackett persuasively argues. "It restores balance to our thought processes; it prevents emotions from having undue influence over actions; and it helps us to realize that we might be feeling a certain way for a reason." 
Here are just some of the important reasons that Brackett argues we should become emotion scientists. 
1. Emotions are inextricably linked to achievement:
"The research is clear: emotions determine whether academic content will be processed deeply and remembered. Linking emotion to learning ensures that students find classroom instruction relevant." When…