October 24, 2023
Newsflash: Getting into college shouldn't be any child's central goal. Or so says Ana Homayoun in her new book, Erasing the Finish Line. I emphatically agree with her.
"The false finish line created around college admissions," Homayoun contends, "is not just exhausting and misleading; it is fundamentally crushing the social well-being and emotional development of our kids."
She should know. As the founder of Silicon Valley's Green Ivy Educational Consulting, Homayoun has worked with thousands of students navigating their way through middle school and high school as well as through the college admissions process.
Her experience has convinced her that the emphasis on college—which encourages students to focus on external markers like grades, standardized test scores, and extracurricular activities—creates a one-size-fits-all mentality. Homayoun has a better idea: Students should become "the architects of their own futures," making choices that nurture their own interests, creativity, and leadership abilities.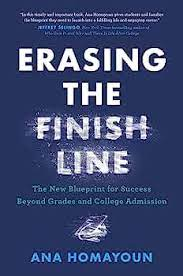 By focusing on "skill building" rather than "resume building," Homayoun has seen her students far exceed their initial goals. When elementary and middle school students cultivate foundational skills—developing good study habits, fostering interpersonal relationships, and practicing self-advocacy—good…