October 5, 2023
How many of you associate Rwanda with the word "genocide"? You might shake your heads in disbelief, wondering how Rwanda could ever recover from such a horrifying catastrophe and what its future holds.
This summer, after a year of researching Rwanda's history, politics, and culture, a group of 5 teachers from the University School of Milwaukee (USM) embarked on a 10-day trip there. What we saw and experienced completely shattered our preconceived notions. The 1994 genocide has cast a long shadow over Rwanda's present and future. However, upon landing at Kigali International Airport and inhaling the fresh, crisp summer evening air, we quickly realized that being in Rwanda felt more like visiting a national forest in California.
What struck us next were the Rwandans' genuine and cheerful smiles, and the country's remarkable cleanliness, even in areas with dirt roads and mud houses. In less than 30 years, Rwanda has shattered our fixed understanding of post-genocide Rwanda and the constructed stereotypes we held. How?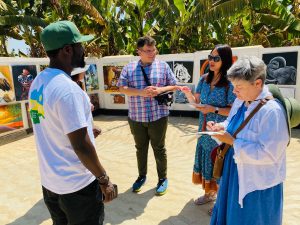 We unexpectedly found answers…