We need to begin with our learners. Historically, we've taken an outside-in approach in education, beginning with the needs of policymakers and working from there to implement assessment systems "to" students. We need to reverse that approach and begin with the learners. We must start by designing to inform learning and then move to accountability once we are confident that we've achieved the primary purpose of empowering our students.
By orienting first to our learners, we ensure that the utility of the assessment is optimized for the person who stands to benefit the most. In addition, by beginning with the learner we can shift from the student being a passive recipient of an externally-imposed assessment to an active, co-constructor of assessment as part of a meaningful learning cycle.
Just as the inputs are different in the emerging post-industrial, competency-based system, so too are the outputs — the "learner records." Unlike report cards or transcripts that are historically organized by subjects or courses, the post-industrial, learner-centered system is also organized around the learner. Holistic learner profiles, digital portfolios, and other portable learner records are designed to inform ongoing learning. We are on the cusp of an era where students will have a "data backpack" that will transform into a "digital briefcase" where their learning will extend beyond school on a cradle to career journey that focuses on lifelong learning.
Shifting to a new model of measurement requires a number of key shifts, including a critical reorientation away from time as the driving force to attainment of competency as our primary orientation. Importantly, the purpose of the feedback must also shift to informing learning as opposed to how we have conventionally used grades and test scores for ranking, sorting, and selecting.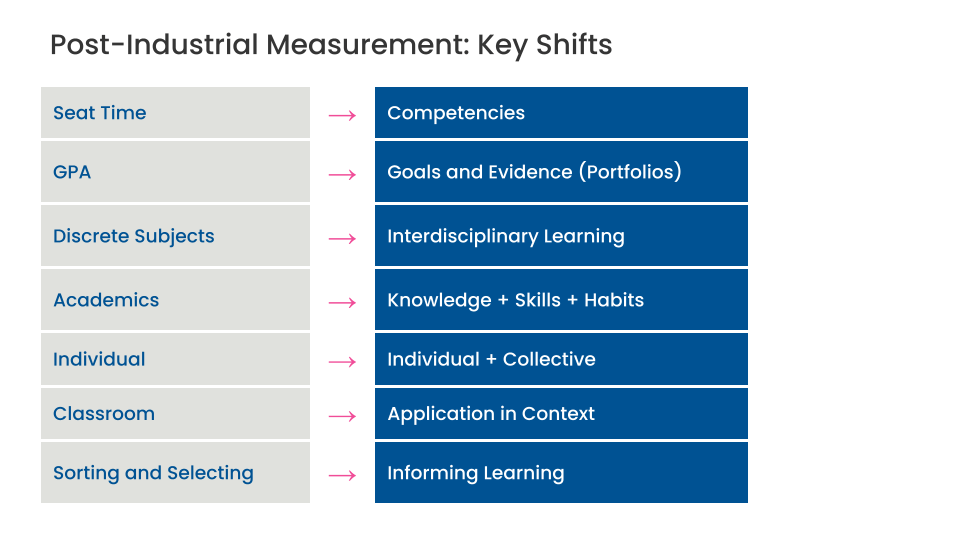 For those interested in making these key shifts, here are some suggested actions:
Develop a learner profile (sometimes called a graduate profile) to gain clarity on what matters most in your local environment.
Work with students to develop self-generated goals.
Implement student-led parent conferences.
Schedule learning exhibitions to create an authentic audience for students to reflect on their progress.
Incorporate peer feedback and educator observation feedback to augment self-reflection and provide a more holistic view into the development of every learner. Advisory and mentoring…