July 28, 2022
Relationships are at the heart of leading and learning. As school leaders, we know this from intuition and experience. It is also clear that relationships require trust.
Research reveals that there are four elements of relational trust: consistency, compassion, competence, and communication.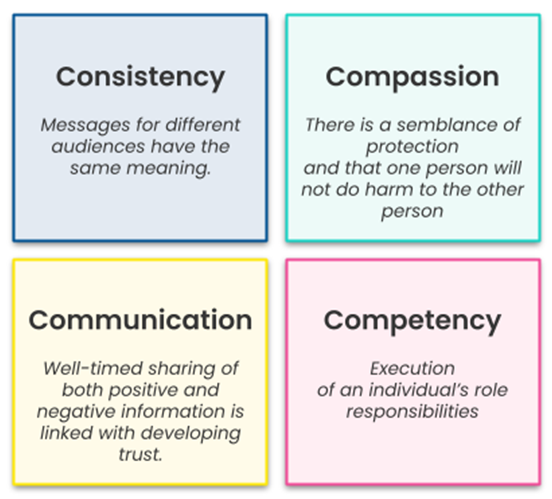 Consistency is equated to predictability
Consistency is equated to predictability—in any interaction, there is a degree of vulnerability that occurs, and being predictable reduces the uncertainty of the interaction. This is often extended to concepts such as reliability or integrity which are absolutely foundational for trust to emerge.
Orienting to vision, mission, and values helps to build consistency throughout the organization. Adhering to plans helps to have a reliable way to plan and organize major strategic projects. Use of routines such as weekly Cabinet meetings is another way to create predictability. Finally, as a leader, it is critical to follow through on commitments which includes keeping appointments (or renegotiating commitments when necessary).
This planning tool will help guide the structure and content of meetings with a hook, practice time, real-world application, and a debrief: Faculty Meeting Planning Template
Compassion relates to genuine empathy
Compassion relates to genuine empathy and understanding. We don't care how much the other person knows until we know how much they care. Compassion is often perceived to exist when there is a meaningful response to a person's unique needs. Further, the research makes it clear that for trust to occur the compassion must be perceived to be genuine and sincere. Faking it does not cut it in this regard—we have to truly care.
Being responsive to student needs is a way to demonstrate compassion. Adjusting plans based on feedback is another way to show empathy for others who have different and important perspectives. Finding ways to bring people together to create community is another way for leaders to demonstrate care for others. Finally, slowing down and simply being present and mindful with others is critical for leaders.
Competence is tied to the task at hand
Competence is tied to the task at hand but can also be perceived based on affiliation or prestige. For example, a student who has graduated from a "prestigious" school is often perceived to…