June 17, 2022
Depending on your viewpoint, you may need to breathe a sigh of relief or exasperation regarding the next statement: In general, very little has really been accomplished as a result of recent DEIJ plans at schools, and it looks to stay that way unless schools can forge a path between curriculum, pedagogy, and compromise to create truly impactful programs.
The likely outcome is that DEIJ work, despite its relative attention and extrinsic celebrations on websites and school materials, will go the way of PBL (project-based learning): a program with great potential, relegated to being a bad date for the standards-driven scope and sequence heavy curriculum that has embedded itself into American K-12 education over the past 30 years. Schools realized at the dawn of the pandemic that this lack of progress on PBL, as well as SEL, left them exposed to a poorly conceived offspring of PBL, project-oriented assessment, and at the time of George Floyd, to a similar offspring of SEL, context-poor advisory support with discrete workshops. The traditional curriculum remained largely untouched. To better understand these scenarios, let's review the history of American curricular ideologies in our education system.
The American education system has been driven by four ideologies describing the purposes of curriculum over the past 150 years: the Scholar Academic ideology focuses on knowledge and truth within the disciplines, the Social Efficiency ideology on preparing students with the skills and knowledge to serve useful, productive, and prosperous lives as adults, the Learner-Centered ideology on the growth and self-actualization of the individual through experience and the meanings they are able to construct from their environments, and the Social Reconstruction ideology on using education to build a fairer and more just society with a focus on social values rather than personal, normative or objective values.[1]Michael Stephen Schiro, Curriculum Theory, Conflicting Visions & Enduring Concerns: Sage Publications, 2013.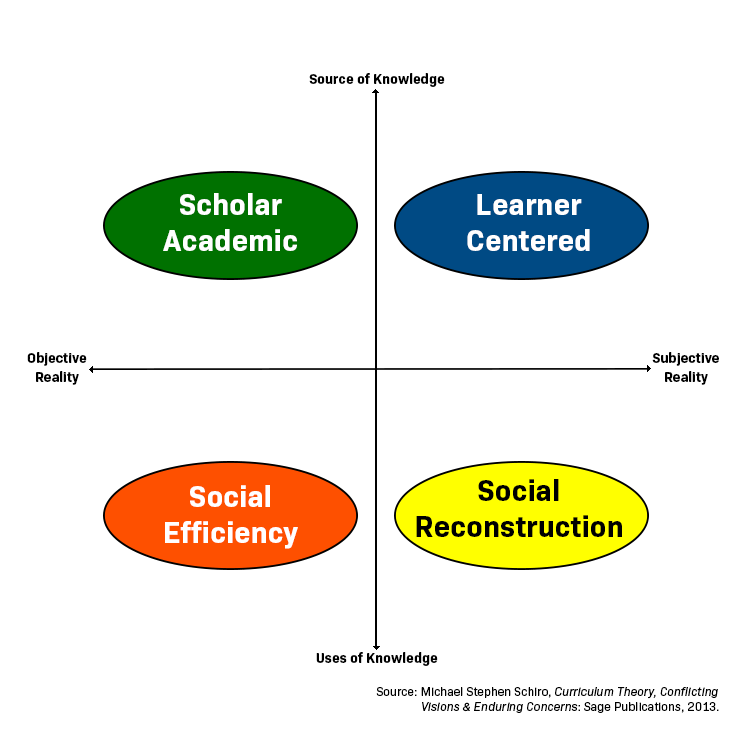 Although John Dewey looms large in the annals of Progressive Education as the protagonist of Learner-Centered approaches, of equal stature is George Counts, who is less well-known today. Around a decade after the founding of the Progressive Education Association, Counts gave a 1932 speech to the association that caused what would ultimately be a terminal split in the members and the movement. He argued…