April 27, 2023
Neurodiversity among our children isn't new. Much of the science is helping us better see it. And as we become increasingly aware of the brain's various ways of processing information, we are not only doing a better job as educators, but also coming to a more expansive understanding of what it means to be human.
There are books galore for educators and parents that specifically address this big and important topic. But some of my recent insights involving neurodiversity draw on similar advances in how we see and perceive animals. Cue the music for Ed Yong's marvelous new book, An Immense World, which deservedly finished on nearly every 2022 list of the year's best books.
What does Yong's research on how animals perceive the world have to do with neurodivergent kids? Plenty.
More on that in a minute; first let me tell you about the book itself.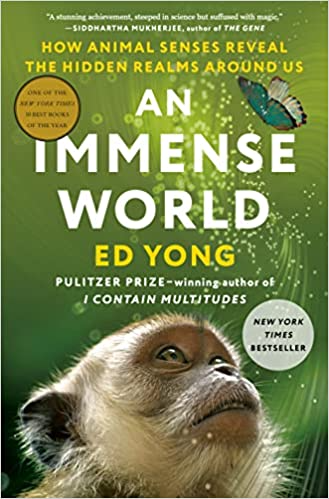 Yong explores this central thesis: "Earth teems with sights and textures, sounds and vibrations, smells and tastes, electric and magnetic fields. But every animal can only tap into a small fraction of reality's fullness. Each is enclosed within its own unique sensory bubble, perceiving but a tiny sliver of an immense world." Yong's term for a species' particular sensory bubble is "Umwelt." 
Because an Umwelt "is all that we know," Yong writes, "we easily mistake it for all there is to know." Hence the refreshing humility with which Yong continually reminds his readers that for all of our advanced intelligence, it's difficult for us to grasp that animals—even when they share our senses—perceive and experience the world in very different ways from us and from each other.
That's why many sensory biologists are neurodivergent: Perceiving the world in atypical ways themselves gives them a special capacity for imagining that animals have different perceptual experiences. In other words, people who are diagnosed with "disorders" or who identify as "atypical" possess "an intuitive feeling for the limits of typicality," Yong suggests. In short, their unique sensory bubble helps them…