October 20, 2022
We challenged our students to consider how architecture can change the use and purpose of a place to develop community, as we were interested in seeing if they could connect design with action. Could a redeveloped area of our school or community space change the behavior of the user, and of course it did. The area outside our Design & Technology lab was empty and underused: it was just a walkway. In response to our design challenge, students used recycled materials to create outdoor tables, seating, and vegetable planters. Soon after, this previously neglected space became a break-time hang-out spot. When our computer lab was ready for a revamp, we invited our students to make design suggestions. A Grade 10 student with an interest in architecture presented us with a design that included standing tables for the computers. We managed to build the design during a Christmas break, and the delight on his face when he returned was wonderful to see.
Novel ways of gathering data on existing school spaces can inspire innovative solutions. Students can investigate school spaces through the lenses of sense perception, language, imagination, intuition, memory, and emotion as demonstrated in the graphic.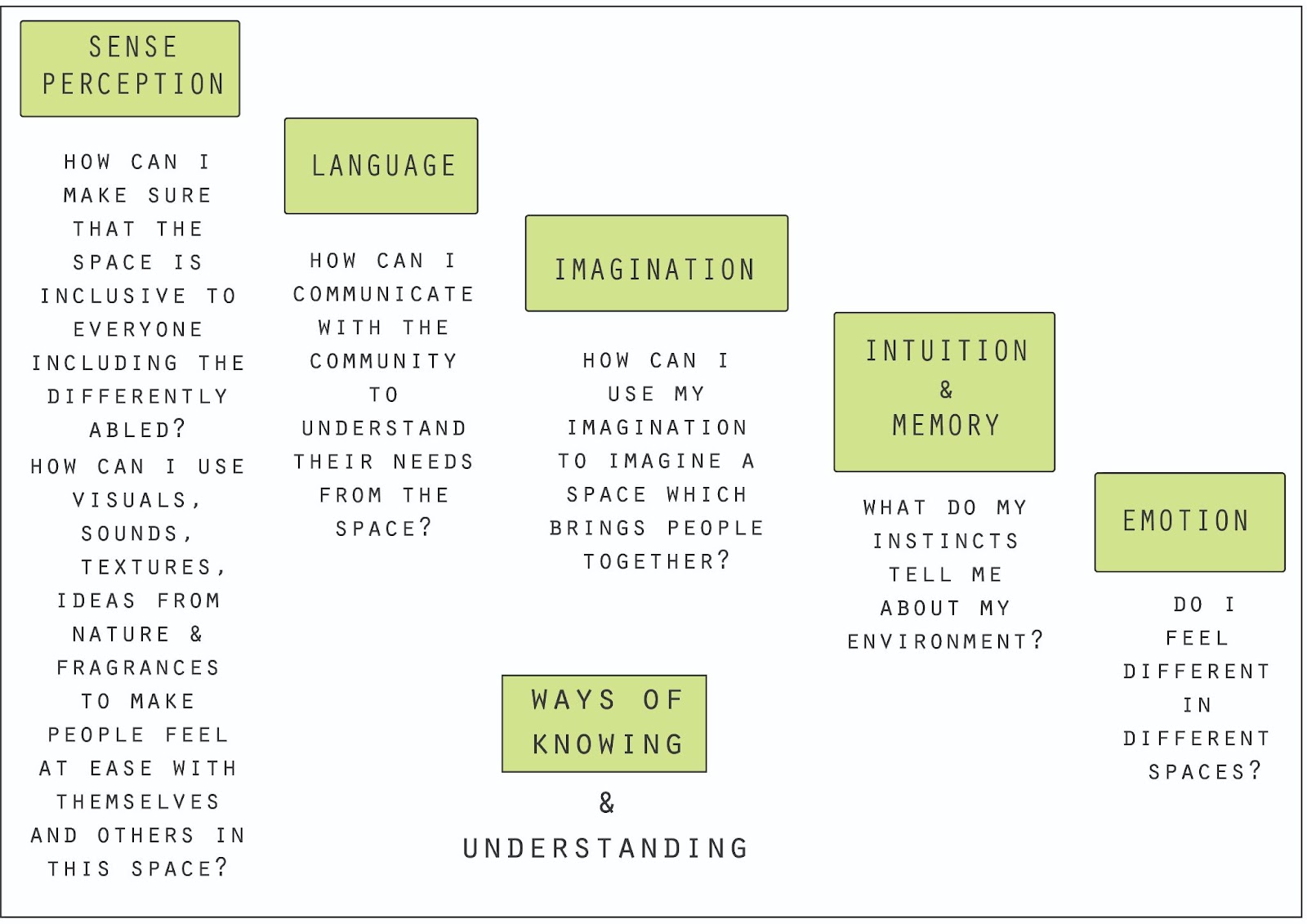 Here are examples that can inspire student inquiry from the Interdisciplinary Thinking for Schools: Ethical Dilemmas MYP 4 & 5:
Hayden Annable (Founder of Curvatecture-Sustainable design):
Understanding space through imagination: Equality and mutual respect, for me, always brings people together and closer. A circle is an all-inclusive shape, so creating a circular building gives everybody the same position within it and the same level of inclusion.
Understanding space through listening: The shape of buildings not only changes the look but drastically changes the sound of the internal spaces. This is one of the most amazing differences between circular and domed buildings and makes me feel amazingly different once inside them.
Zeynep (High School Student):
Understanding a city through imagination and emotion: The soul of a city is hidden beneath its architecture and history, inside the mortar of its buildings and between the flagstones. Today's society is too busy to notice these hidden beauties, too blind to see, and too deaf to hear the city.
Teachers should also consider classroom…