Survey of 129 Schools
We took the temperature on admissions processes for next year at the end of April 2020, with 129 schools participating and 58% of respondents being admissions officers, and the rest Heads of School or Principals. We also asked a couple of member school leaders, Nanci Kauffman, Head of School, Castilleja School (CA) and Sue Sadler, Head of School, Bryn Mawr School (MD) to comment; they framed their comments around Tables 2 and 3 that detail responses on priorities of school attributes that need to be highlighted and outcomes that parents want.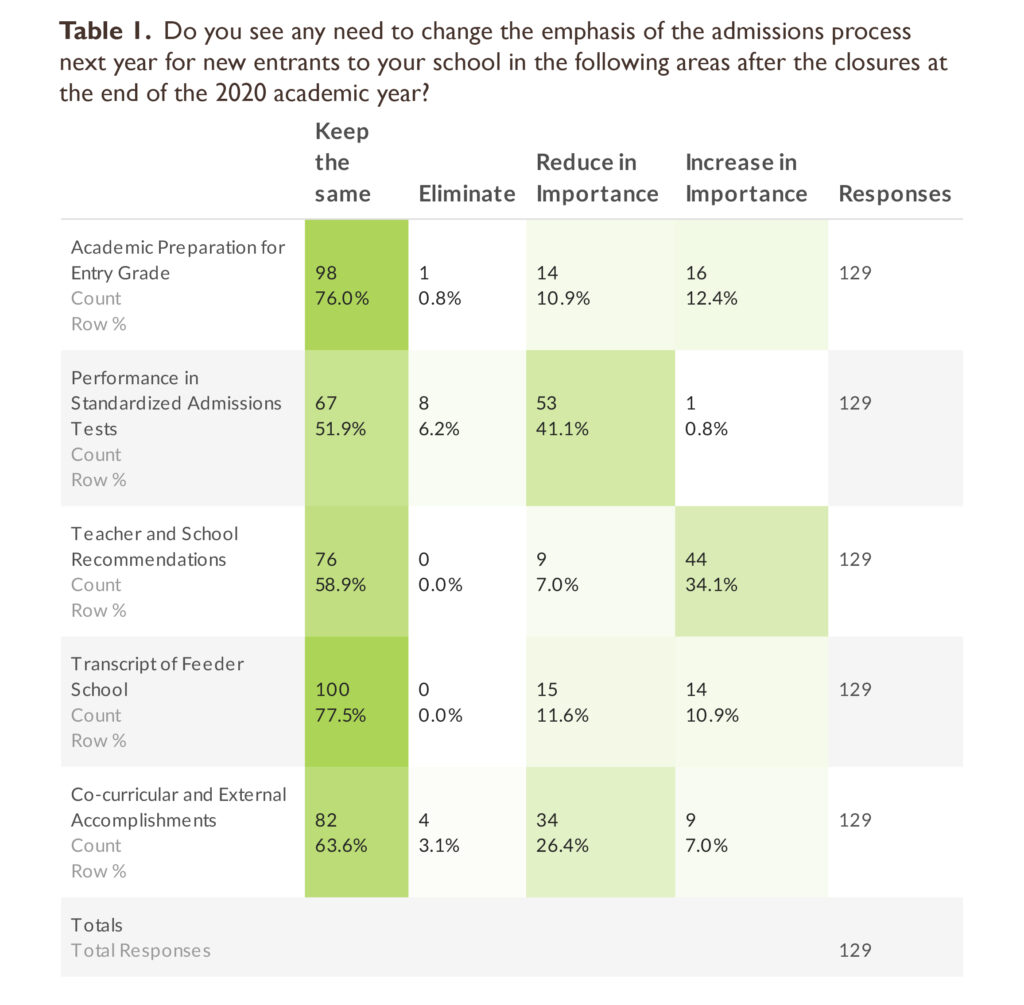 In Table 1, we see that there appears to be changing emphases towards the value of standardized admissions tests and teacher recommendations: with the former, only 52% see the admissions tests as having the value they had in the past and this is probably largely attributable to the dramatic swing nationwide and at the college level against the SAT and ACT for inequity. OESIS has advocated that schools go test-optional for the SSAT or ISEE. Teacher recommendations are rising in emphasis and this may be a function of the disruption to the end of the school year that might imply incompletion of traditional sequences.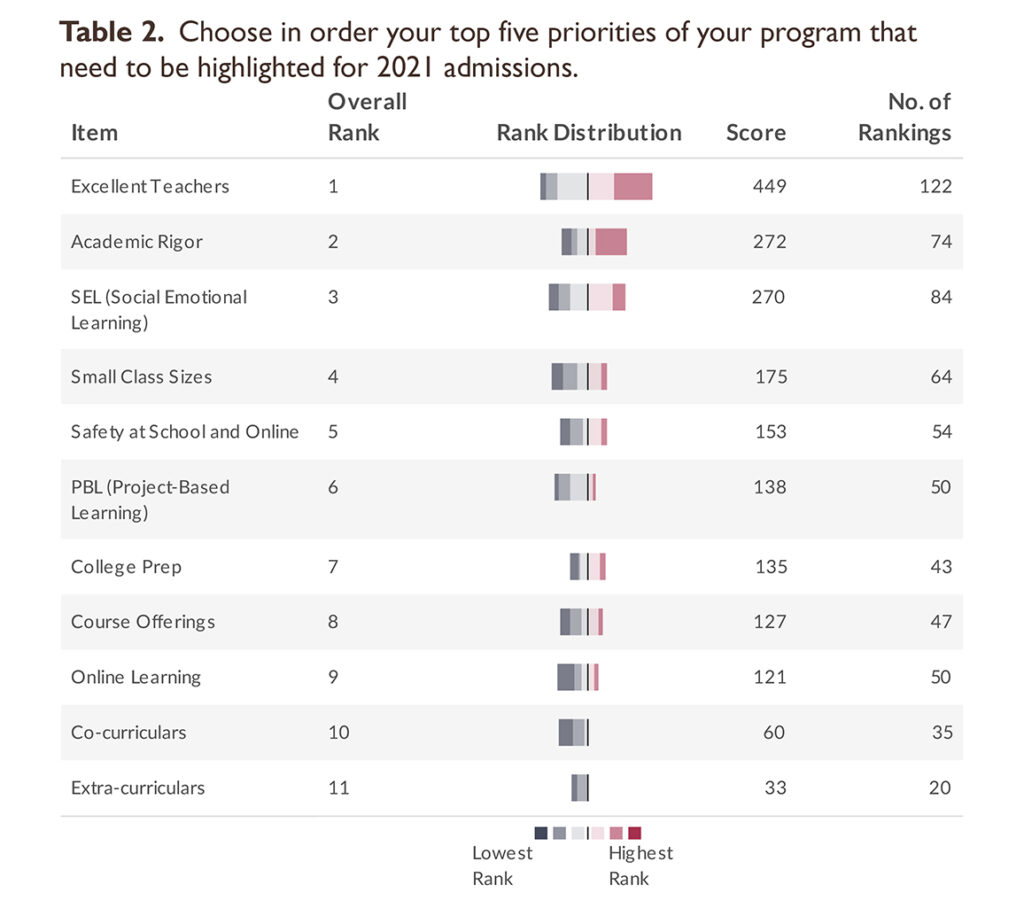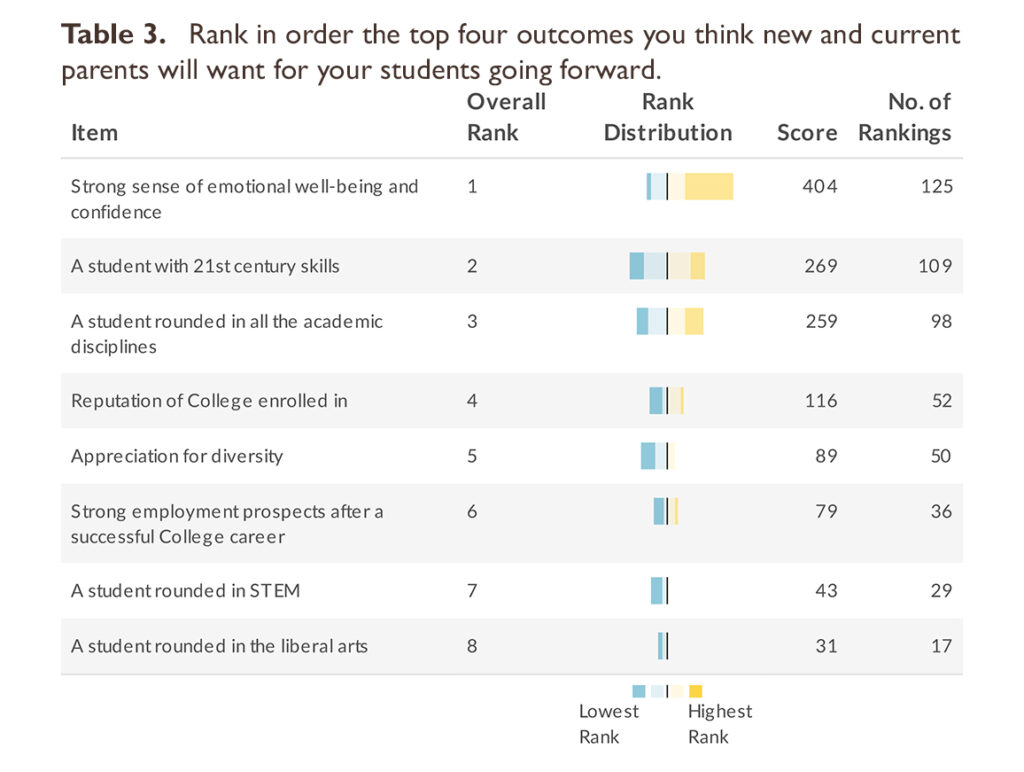 The responses in Table 4 are the most worrisome for us as they seem to under-estimate the privacy issues with using home versions of the ISEE and SSAT. Should offering a proctor that is unknown to your child and requiring all kinds of impositions be one of the first touches we offer as schools for prospective families. Recently the SAT abandoned its home version. Are there alternative ways of doing it? Table 5 offers an alternative way of getting the information used by Stanford Online High School and this seems to have quite positive receptivity.
We asked the last question on privacy because we see legal standards as the lowest bar and accreditation standards and internal equity standards as higher bars. The responses are confusing and suggest that privacy is an area that admissions and all…