November 2, 2022
The International Baccalaureate celebrated its 50th anniversary four years ago in 2018. Even with such a substantial history, it would seem that misconceptions about the IB programs remain. Some educators view IB programs as mainly an international approach to education, but the chart below showing schools by country would indicate otherwise. Others view IB as a highly structured and disciplined program akin to programs leading to high-stakes A-Level exams in Great Britain. This article will shed some light on what the IB programs are today, and why independent schools might wish to consider it as a programmatic alternative.
Before I begin sharing my personal and professional thoughts and experiences related to the IB, I wish to state clearly that I am an author of the original Primary Years Programme (PYP), having been in the lucky position to be hired as a young teacher from California to the Vienna International School where the PYP (then called the International Schools Curriculum Project) was initiated. My strong support and belief in the program have never wavered, and it is my opinion that the programs represent current best practices. Having said that, searching for a truly perfect curriculum program would be unproductive.
Quick Overview/Refresher of the IB programs
The first IB program, the Diploma Programme (DP), was established in 1968. It sought to provide a challenging yet balanced education that would facilitate geographical mobility by providing an internationally recognized university entrance qualification.
With the introduction of the Middle Years Programme (MYP) in 1994 and the Primary Years Programme (PYP) in 1997, a continuum of international education for students aged 3 to 19 was established. The recent introduction of the Career-related Programme (CP) in 2012 enriched this continuum by providing a choice of international education pathways for 16- to 19-year-old students. These four IB programs can be implemented independently or in combination.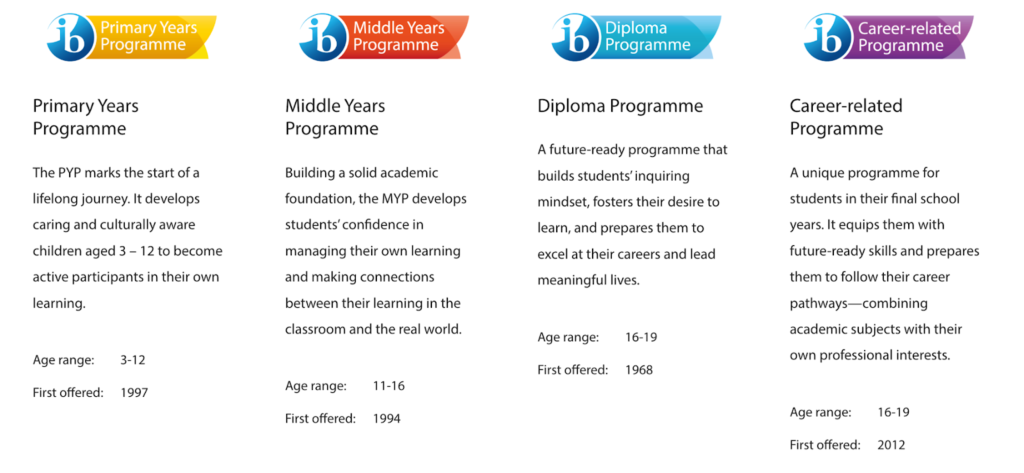 Refer to the IB website for additional information.
All four IB programs also require the completion of a culminating project: the PYP exhibition; the MYP personal project or community project; the DP extended essay; the CP reflective project. These projects provide an opportunity for students to both deepen and showcase their knowledge, understanding, and skills, and to celebrate their learning journeys. The MYP, DP,…