Now that the rush of starting school has passed and students are settling into a familiar routine, it's time to evaluate what your child or teen with ADHD needs for academic success this year. Kids with ADHD spend their days at school trying to pay attention in classes that often seem uninteresting and doing work that is unfulfilling. Throughout the day, they have to use their weaker executive functioning skills such as impulse control, working memory, planning, organization and motivation (typical challenges related to having ADHD). Even when they enjoy a subject, they often struggle with staying on top of assignments and remembering to turn them in.
Fostering progress at school and self-reliance at home means sharpening kids' executive functioning skills. Executive functioning is a term used to describe the directive capacities of the brain located primarily in the prefrontal cortex. They connect, prioritize and integrate cognitive functions moment by moment and, in neurotypical brains, mature around the age of 25. In kids with ADHD, there is a lag of up to three years in this maturation process. There are 11 executive functioning skills that range from impulse control to time management to sustained attention. Some of these skills are conscious (hot skills) and others are unconscious (cool skills). (see chart below)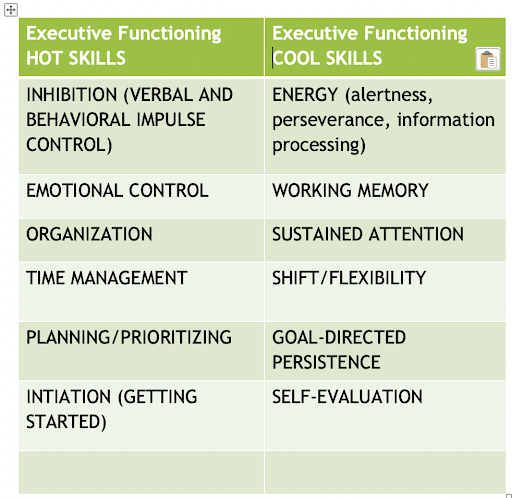 While medications for ADHD can improve executive functioning skills because they act on the neurotransmitters that address concentration, interest, alertness, and satisfaction, pills don't teach skills. They help ADHD brains be more available to learn and retain them. Research shows that learning these skills depends on direct instruction, not miracle osmosis or passive observation. Many parents and teachers get frustrated with the necessary repetition and patience required to teach these tools. As your child or teen with ADHD settles into school, now is the perfect time to set up the structures at home and at school to facilitate the development of effective executive functioning skills. This means collaborating on realistic goals, organizational systems, and practice routines that your children understand and want to follow.
Most parents of kids with and without ADHD harbor a number of goals for their children related to school: learn and retain information, obtain good grades, behave appropriately, etc. These are all important facets of a thorough education. But children and teens…